News
Contact us
QS Advanced Materials Inc
555 Madison Ave, Manhattan, NY10022
Sales@QSAdvancedMaterials.com
Tel: 917-267-9375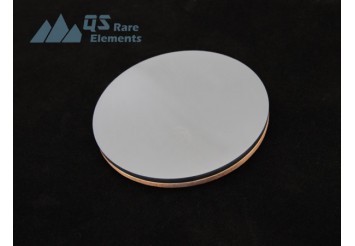 Chromium Boride (CrB2) Sputtering Targets
Composition: Chromium Boride (CrB2) Catalog No.:DPBO24STPurity:99.90%Price:$857(2"Dia. x 1/8" T)Please click

for discount and other size

Click here for the specifications of CrB2 sputter target

Click here for the SDS document of CrB2 sputter target

Description
Chromium Boride(CrB2) is produced by hot pressing boride of Chromium. Just like most of boron compound, CrB2 is also quite hard and brittle. borides can be classified loosely as boron rich or metal(Chromium) rich. In this case(Chromium Boride,CrB2), since Chromium: boron is larger than 1:4, CrB2 sputter target is considered a metal rich material.
Packaging
As Chromium Boride sputtering target is a quite brittle material, we shall packed it in vacuum sealed plastic bags and fit it in cut plastic faom. We choose high quality over-sized carboard box to keep our sputter targets safe. Typical documents along with the CrB2 sputter targets are, Chemical analytical report of the CrB2 material (COA) Packing list
Related Product
Overstock Sputter Targets ON SALE!
Calcium Ruthenate (CaRuO3) Sputter Targets