News
Contact us
QS Advanced Materials Inc
555 Madison Ave, Manhattan, NY10022
Sales@QSAdvancedMaterials.com
Tel: 917-267-9375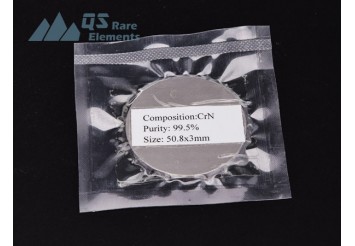 Chromium Nitride (CrN) Sputtering Targets
Composition: Chromium Nitride (CrN)
Catalog No.:DPND24ST
Purity:99.5% ~ 99.9%
Typical Lead Time:4 weeks
Ref. Price:$456.4 (2" Dia. x 1/8")
Description
Chromium(III) Nitride is the compound of nitrogen and Cr. CrN is used as a coating material for corrosion resistance and in metal forming and plastic molding applications. Although CrN sputter target is usually more expensive, CrN sputtering usually obtain better coating compared with Cr reactive sputtering.
QSRE is a professional supplier of sputter targets and other advanced materials. Please contact us for educational discount and price quote for other sizes or shapes of CrN sputter targets.
indium bonding to simple disc or custom designed backing plate is a recommended option for chromium nitride .
Packaging
As Chromium Nitride is a quite brittle ceramic material, we shall pack it in vacuum sealed plastic bags and protect with bubble bag or foam.
Typical documents along with the CrN sputter targets are,
Chemical analytical report (COA)
Packing list
Related Product
Overstock Sputter Targets ON SALE!
Lithium Iron Phosphate (LiFePO4, LFP) Sputter Targets