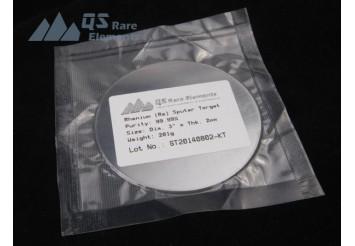 Rhenium Metal Products
Rhenium is a quite rare and expensive material. QS rare elements have limited stock in sheets from 1mm to 3mm and could be processed into requested products in 2~3 weeks with competitive price.

| | |
| --- | --- |
| Grade | Form |
| 99.99% | Plates, Sheets, Wire, Sputter Targets |
| 99.9% | Powder, Pellets |
Rhenium is a very important additive for super alloys. Its a very rare element and was sold by kilo or even gram. Recent price for Re raw powder is around $5000/kg and the forged materials such as sheets, cost even much more than that.
Although in limited quantity, QS Rare Elements has Rhenium sheets 99.99% pure in stock and could be processed to desired shape, including sputter targets in 2~3 weeks.
Related Product
Tungsten Heavy Metal Alloy (W-Ni-Fe) Bucking Bar
Copper Tungsten(Cu-W)Electrode