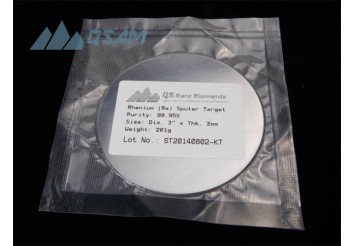 Rhenium Discs/sputter target
Composition: Rhenium
Catalog No.:DPMA75DISC
Purity:99.99%
Shapes available: discs, sputter targets, sheets, plates.
Typical Lead Time:2-3 weeks

Click here for the SDS document of Rhenium discsputter target

Rhenium introduction
Rhenium is a rare, silvery-white metal with the atomic number 75 and the symbol Re on the periodic table. It has a high melting point of 3,180°C and a boiling point of 5,627°C, making it one of the highest-melting metals known. Rhenium metal is known for its exceptional resistance to high temperatures and corrosion, and it is used in a variety of industrial and scientific applications where these properties are crucial. Due to its rarity and high cost of production, rhenium is not widely used in everyday products or applications. However, its unique properties and applications have made it a valuable material in a variety of high-tech industries.
QSAM's Rhenium discs/sputter targets
The Rhenium sputter target is a high-quality product designed for use in thin film deposition processes in a variety of industries, including aerospace, electronics, and semiconductors. The material is formed by powder metallurgy. Forging and rolling process is applied to make the final shape. Thus, our Rhenium discs and sputter targets could have density close to theoretical value with smooth surface. Althogh costy, QSAM stock a certain amount of Rhenium sheets, which could be cut into Rhenium discs or sputter targets anytime. The lead time shall be less than 3 weeks.
Regular shape and reference price of our Rhenium disc sputter target
Rhenium disc properties
| | |
| --- | --- |
| Property | Value |
| Atomic Number | 75 |
| Atomic Symbol | Re |
| Bulk Density | ~21 g/cm³ |
| Melting Point | 3,180°C |
| Boiling Point | 5,627°C |
| Thermal Conductivity | 48.0 W/(m·K) |
| Electrical Conductivity | 4.92 × 10^6 S/m |
| Young's Modulus | 463 GPa |
| Poisson's Ratio | 0.30 |
| Hardness (Mohs) | 7.5 |
| CAS No. | 7440-15-5 |
Rhenium related articles
Rhenium sputter target packaging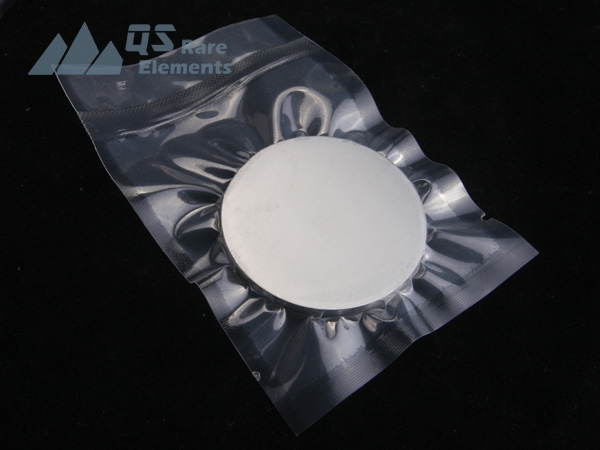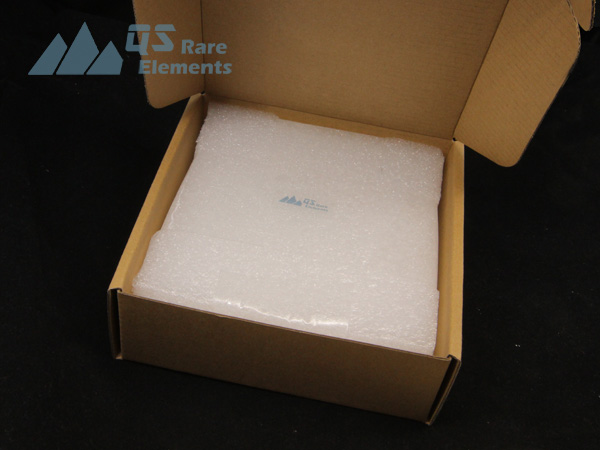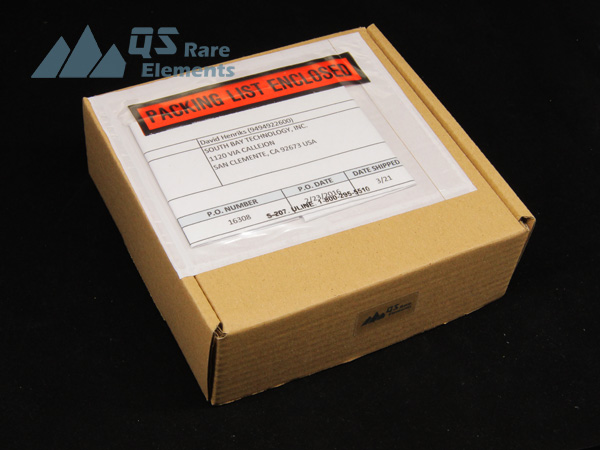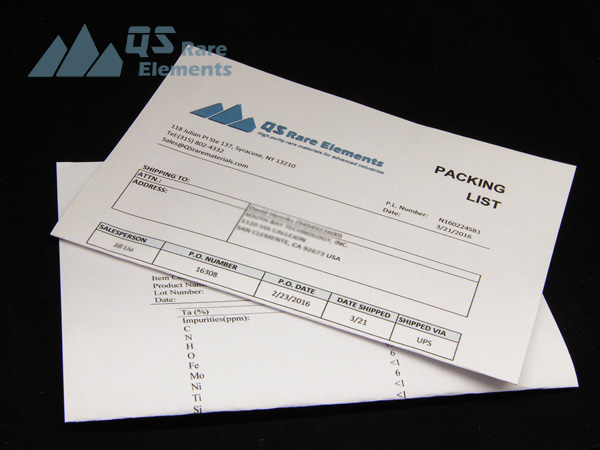 Related Product
Samarium (Sm) Sputtering Targets
Erbium (Er) Sputtering Targets