Contact us
QS Rare Elements, LLC
Email:
Sales@qsrarematerials.com
Telephone:
+1 (315) 802-4332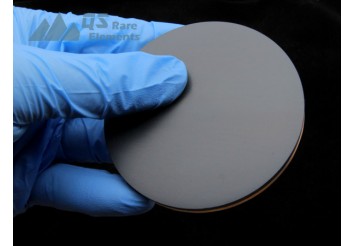 Titanium Carbide (TiC) Sputtering Targets
Composition: Titanium Carbide (TiC) Catalog No.:DPCB22STPurity:99.50%Price:$634 (2"Dia x 1/8" T)Please click

for discount and other size

Click here for the specifications of TiC sputter target

Click here for the SDS document of TiC sputter target

Description
Most of inorganic, nonmetallic solid materials could be defined as ceramics. Sputter targets made of such material is defined as ceramic targets. Carbides, such as Titanium Carbide (TiC) is the compound of carbon and Ti (Titanium). Most of carbides that could stay stable in air and made into sputter targets exhibit some covalent characters, such as high hardness and refractory. For more specification of Titanium Carbide (TiC) sputter targets or discounted price, please click inquiry to request a quote.
Packaging
As Titanium Carbide sputtering target is a quite brittle material, we shall packed it in vacuum sealed plastic bags and fit it in cut plastic faom. We choose high quality over-sized carboard box to keep our sputter targets safe. Typical documents along with the TiC sputter targets are, Chemical analytical report of the TiC material (COA) Packing list
Related Product
Overstock Sputter Targets ON SALE!
Calcium Ruthenate (CaRuO3) Sputter Targets