News
Contact us
QS Advanced Materials Inc
599 Thurber Dr, Troy MI 48085

Sales@QSAdvancedMaterials.com
Tel: 917-267-9375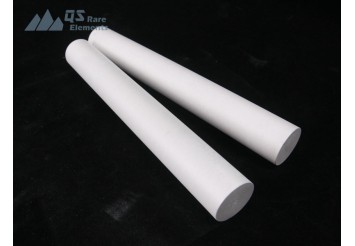 Boron Nitride Rod
High purity hot pressed hexagonal boron nitride rods
Purity: 99.5%
Ref. Price: $24/Inch3 (rectangular material the rod takes)
Max. Size: 12" dia. x 13" H



Common properties and advantage of boron nitride (compared with the other ceramic materials)
>Low wetability to molten metal
>Relatively high thermal conductivity with low thermal expansion
>Relatively high thermal shock resistance
>Extremely high working temperature with proper inert gas protection (>3000C has been recorded).
Llist and price of regular boron nitride rods
Available boron nitride materials for our BN rods
As a supplier of special advanced ceramic materials, QSAM is working together with researching institutions to produce a series of boron nitride material. Except for the pure boron nitride BN99, we also deliver composite boron nitride material with silicon carbide, calcium borate, aluminum nitride and zirconia, to fulfill various of demand for the customers.
Pics of our boron nitride rods rods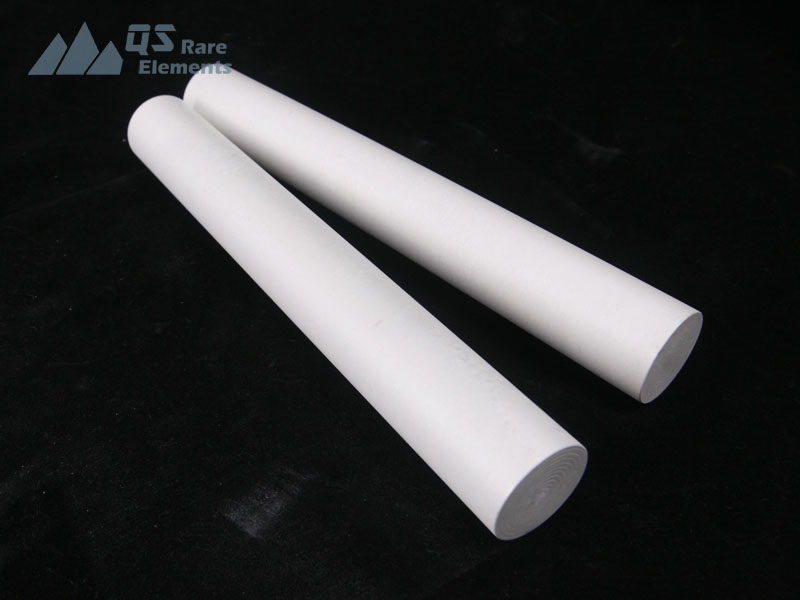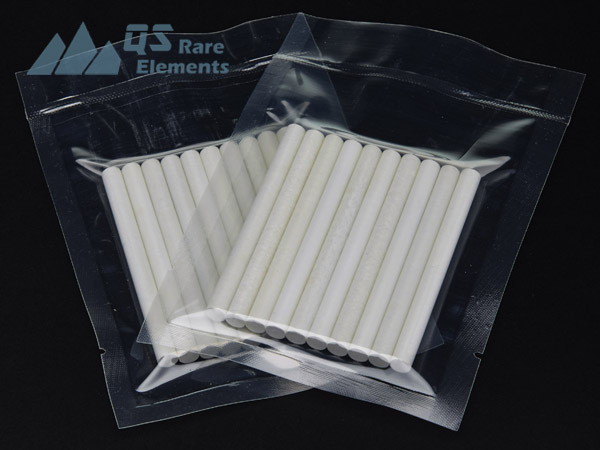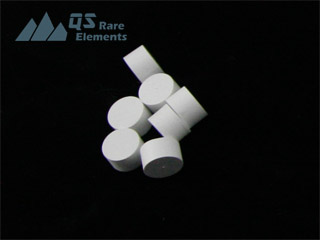 Our boron nitride rods
High purity boron nitride rods could withstand higher temperature in vacuum than lower purity and composite boron nitride products. However, the composite materials generally enhanced mechanical properties such as bending strength, and the high temperature performance in air.
Due to the low wetability with metals, boron nitride rod is an ideal material for metal melting works, especially for high purity material metal in vacuum.
As a supplier of solid advanced ceramic materials, QS Rare Elements could custom make all kinds of rods and other products in about 2 weeks with $300 MOQ. Typical boron nitride rods are smaller than 12" dia x 15" length due to the limitation of our equipment. Other form of boron nitride machined products could be available with drawings.
About other boron nitride brands
*Hexagonal Boron Nitride, or h-BN, with hardness about 4, is a machinable material. HBN/HBR is originally a product code for other manufacture and represents for the boric oxide or calcium enhanced boron nitride material respectively. QSAM is also providing calcium borate enhanced boron nitride rod with similar performance compared with HBN and HBR. Although calcium (or zirconium) enhanced HBR (or ZSBN) are the most common composite boron nitride material, we also produce a series of other composite boron nitride, such as AlN-BN, SiC-BN
Tags: Rod, Bar, Blank, Boron Nitride, hBN, 99, high purity
Related Product