Contact us
QS Advanced Materials Inc
599 Thurber Dr, Troy MI 48085

Sales@QSAdvancedMaterials.com
Tel: 866-279-7170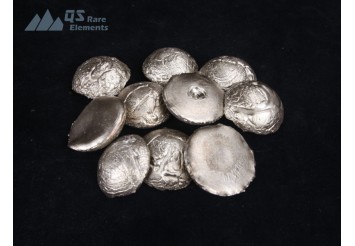 Scandium Metal (Granules)
Scandium metal raw material, could be used as raw material for sputter targets and other scandium metal products. The metal was cast into granules weight about 50 gram each and 1.5" diameter.
The content of Scandium in earth crust is not very low. However, as it dispersed widely in varies kinds of ores with low concentration, the extraction of Sc is hard. Although the industrial application started since the 90th last century, Sc is still one of the most expensive commercially available metal.
QSAM supply pure scandium metal in two purity grades. The regular 99.5% grade products are made by electrolyte process directly. The content of other rare earth element are below 0.1%. Which means the REM (rare earth metal) purity is 99.9%. The other more expensive grade of scandium has better purity. Based on the electrolyte grade, an extra distillation purification process is applied to obtain 99.9% overall purity (99.99% REM).
Related Product