Contact us
QS Advanced Materials Inc
599 Thurber Dr, Troy MI 48085

Sales@QSAdvancedMaterials.com
Tel: 866-279-7170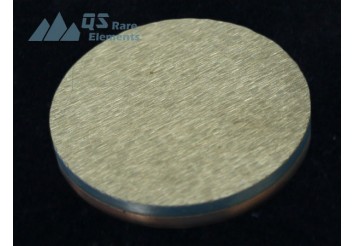 Sulfide Sputtering Targets
CuS, MoS2, SnS2, ZnS...
Shape: Discs, Plates, Column Targets and other costom size
Max.Size:
18"disc
Sulfide is a quite common material for sputtering targets. A lot of sulfide compounds has unique properties in optical properties. Sulfide sputter targets are usually used in optics and electronic industries. Like other ceramic sputter targets, most of the sulfide sputter targets are manufactured by hot press techniques.
| | | | |
| --- | --- | --- | --- |
| Composition | Purity (REM) | Catalog No. | Typical Lead Time |
| Antimony Sulfide (Sb2S3) Sputtering Targets | 99.9% ~ 99.99% | DPSF51ST | 4 weeks |
| Barium Sulfide (BaS) Sputtering Targets | 99.9% | DPSF56ST | 4 weeks |
| Bismuth Sulfide (Bi2S3) Sputtering Targets | 99.9% ~ 99.99% | DPSF83ST | 4 weeks |
| Cadmium Sulfide (CdS) Sputtering Targets | 99.9% ~ 99.999% | DPSF48ST | 4 weeks |
| Calcium Sulfide (CaS) Sputtering Targets | 99.9% ~ 99.95% | DPSF20ST | 4 weeks |
| Chromium Sulfide (Cr2S3) Sputtering Targets | 99.9% | DPSF24ST | 4 weeks |
| Copper Sulfide (Cu2S) Sputtering Targets | 99.9% ~ 99.999% | DPSF29ST | 4 weeks |
| Copper Sulfide (CuS) Sputtering Targets | 99.9% ~ 99.999% | DPSF29ST | 4 weeks |
| Germanium Sulfide (GeS) Sputtering Targets | 99.9% ~ 99.99% | DPSF32ST | 4 weeks |
| Indium Sulfide (In2S3) Sputtering Targets | 99.9% ~ 99.999% | DPSF49ST | 4 weeks |
| Iron Sulfide (FeS) Sputtering Targets | 99.9% | DPSF26ST | 4 weeks |
| | 99.9% ~ 99.999% | DPSF82ST | 4 weeks |
| Magnesium Sulfide (MgS) Sputtering Targets | 99.9% | DPSF12ST | 4 weeks |
| Manganese Sulfide (MnS) Sputtering Targets | 99.9% | DPSF25ST | 4 weeks |
| Molybdenum Sulfide (MoS2) Sputtering Targets | 99.9% | DPSF42ST | 4 weeks |
| Silicon Sulfide (SiS2) Sputtering Targets | 99.5% ~ 99.9% | DPSF14ST | 4 weeks |
| Tantalum Sulfide (TaS2) Sputtering Targets | 99.9% | DPSF73ST | 4 weeks |
| Tin Sulfide (SnS) Sputtering Targets | 99.99% | DPSF50ST | 4 weeks |
| Tin Sulfide (SnS2) Sputtering Targets | 99.99% | DPSF50ST | 4 weeks |
| Tungsten Sulfide (WS2) Sputtering Targets | 99.5% | DPSF74ST | 4 weeks |
| Zinc Sulfide (ZnS) Sputtering Targets | 99.9% ~ 99.99% | DPSF30ST | 4 weeks |
Related Product