News
Contact us
QS Advanced Materials Inc
599 Thurber Dr, Troy MI 48085

Sales@QSAdvancedMaterials.com
Tel: 917-267-9375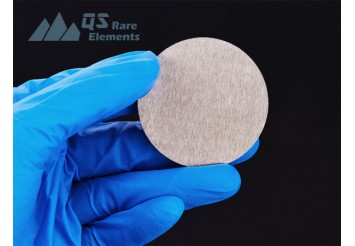 Tantalum Nitride (TaN) Sputtering Targets
Composition: Tantalum Nitride (TaN)
Catalog No.:DPND73ST
Purity:99.50%
Typical Lead Time:4 weeks
Ref. Price:$634 (2" Dia. x 1/8")
About nitride sputter targets
Nitride is a binary compound formed by nitrogen and an element with less electronegativity than it. The nitride formed by the direct combination of transition elements and nitrogen is also called metallic nitride. They belong to "interstitial compounds", so named because nitrogen atoms occupy interstitial positions in the metal lattice. This compound is similar to metal in appearance, hardness and conductivity. Generally, it has high hardness, high melting point, stable chemical properties, and conductivity. Nitrides of titanium, vanadium, zirconium, and tantalum are hard and refractory, and are resistant to chemical corrosion and high temperature.
Description of TaN sputter targets
Tantalum nitride (TaN) is sometimes used to coat a film on silicon wafers to create thin film surface mount resistors. QSRE is a professional supplier of sputter targets. Please contact us for education discounts, or price quote for other sizes of tantalum nitride target.
For Tantalum nitride sputter target, indium bonding to simple or custom made backing plate is available
Packaging
As Tantalum Nitride sputtering target is a quite brittle material, we shall packed it in vacuum sealed plastic bags and fit it in cut plastic faom. We choose high quality over-sized carboard box to keep our sputter targets safe.
Typical documents along with the TaN sputter targets are,
Chemical analytical report of the TaN material (COA)
Packing list
Related Product