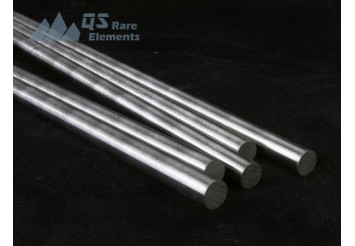 Tungsten (W) Rod
Composition: Tungsten (W, Atomic No. 74) Catalog No.: RF74-RodMaterial purity: 99.95%Typical lead time: 3 weeks

Click here for the SDS document of tungsten metal products

Tungsten rod introduction
Tungsten is a remarkable metal known for its exceptional properties and wide-ranging applications. It is a dense, hard, and corrosion-resistant element with the highest melting point of all known metals. Tungsten, symbolized by the letter W on the periodic table, is named after the Swedish term [tung sten], meaning heavy stone, reflecting its high density.
Due to its high melting point and excellent heat resistance, tungsten is extensively used in high-temperature applications. It is a critical component in the production of incandescent light bulbs, as the filament is typically made of tungsten due to its ability to withstand extremely high temperatures without melting or deforming. Tungsten is also utilized in the aerospace industry for manufacturing parts that require heat resistance, such as rocket nozzles and gas turbine engines.
Additionally, tungsten has excellent electrical conductivity and is used in electrical contacts, particularly in high-power and high-voltage applications. Its hardness and strength make it suitable for various industrial tools, including cutting tools, drill bits, and armor-piercing ammunition.
QSAMs tungsten
QS Advanced Materials supplies a wide range of tungsten product. Available materials are high purity tungsten, heavy alloy (W-Ni-Fe, W-Ni-Cu), tungsten carbide (WC), and fake alloys such as W-Cu, W-Ag composite. For shapes, we could provide tungsten products from tungsten high purity powder/grit to common machined products.
Unalloyed tungsten rod are produced from pure tungsten powder, without extra additive. The purity is usually quite high, 99.95%. Compared with alloyed tungsten, pure material is easier to be processed as pure tungsten could be worked by forging, drawing or extruding. Pure tungsten(W) blanks, which are made from W powder by powder metallurgy, are the raw material to process tungsten rod.
Tungsten rod are mainly used as cathode, conductive parts, heat resistant parts and other devices in electronic products and industrial equipment. W rod are also the raw material for small size tungsten crucibles.
Properites of pure tungsten
| | |
| --- | --- |
| Atomic Mass | 183.84 |
| Electrode Potential | 4.5V |
| Hardness Brinell | 294 |
| Hardness Knoop | 318 |
| Hardness Rockwell A | 66 |
| Hardness Rockwell C | 31 |
| Hardness Vickers | 310 |
| Tensile Strength, Yield | 750MPa |
| Modulus of Elasticity | 350GPa (2300C) |
| Electrical Resistivity | 0.00000565 ohm-cm |
| Thermal Expansion (CTE, Linear) | 4.40 um/m.C |
| Thermal Conductivity | 117 W/m-K(1000C) |
| Specific Heat Capacity | 163.3 W/m-K |
Packaging
Tungsten is stable in air and packed without vacuum seal, unless requested. Wooden crater is applied when the cargo is over weight.
*Mill report available for our tungsten rod.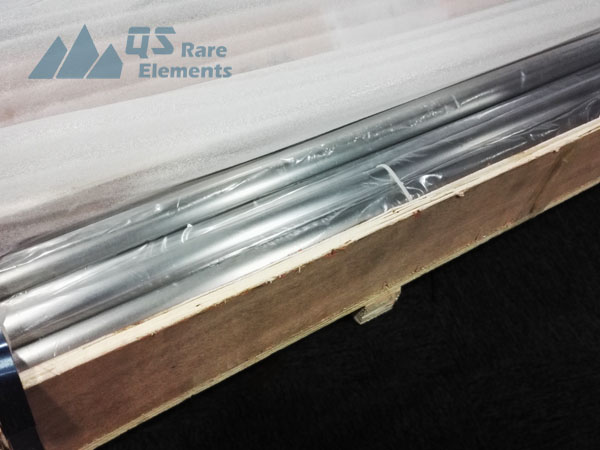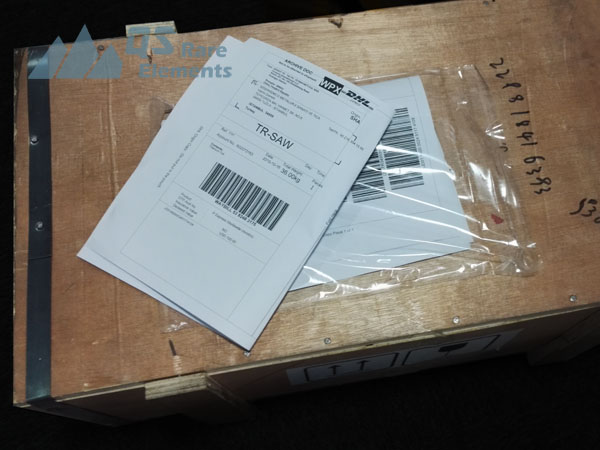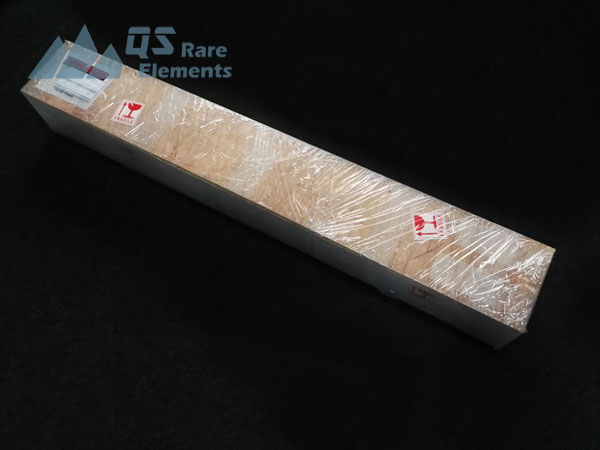 Related Product
Tungsten Heavy Metal Alloy (W-Ni-Fe) Bucking Bar