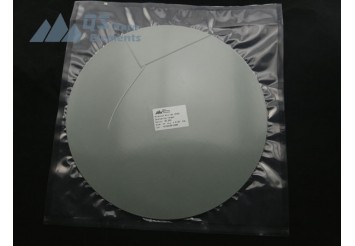 Aluminium Nitride (AlN) Disc Sputtering Targets
Composition: Aluminium Nitride (AlN)
Catalog No.:DPND13ST
Purity:99.9%
Please click

for discount and other size

Click here for the specifications of AlN sputter target

Click here for the SDS document of AlN sputter target

About nitride sputter targets
Aluminum nitride (AlN) has gained increased attention recently. Specifically, it acts as a wide bandgap semiconductor material. Moreover, AlN possesses qualities like high breakdown strength. It also shows high thermal conductivity and resistivity. Further, AlN maintains high chemical and thermal stability. Due to these traits, AlN applies extensively to electronics and circuits.
Presently, methods for preparing AlN thin films include pulsed laser deposition and magnetron sputtering. In these techniques, solid AlN serves as sputtering targets. When struck by energy, AlN microparticles form. Then, deposition of these particles on a substrate yields an AlN thin film.
Additionally, AlN matches the lattice constant of gallium nitride (GaN) materials. Therefore, AlN widely acts as a buffer layer for GaN growth. Commonly, GaN applies to light-emitting devices and lasers. However, GaN lacks a process for bulk preparation. It also has no ideal substrate. Currently, sapphire with mismatch serves as the substrate. In contrast, AlN and GaN contain a matched constant. Hence, as a substrate, AlN can grow high quality GaN films. Consequently, AlN presents as an ideal substrate for GaN growth.
Aluminium Nitride (AlN) disc sputtering target
specifications
Formula: AlN
CAS No.: 24304-00-5
Max. dia. of disc sputter target: 12 inch
Typical lead time of AlN disc sputtering target: 4 weeks
Regular Dimensions and Price of QSAM's AlN disc sputter target
About Our Sputtering Target
QS Advanced Materials Inc is a professional supplier of custom manufacturered R&D consumptions. Our equipment setup are flexible to meet various demands from wide range of customers for flat sputter targets. We are supporting US national labs and worldwide univeristies and researching facilities with our sputter target material and other customized product.
Aluminium Nitride Target
Properties
| | | |
| --- | --- | --- |
| Property | Value | Unit |
| Chemical formula | AlN | |
| Crystal structure | Hexagonal | |
| Density | 3.26-3.33 | g/cm³ |
| Melting point | 2230 | |
Related Product