News
Contact us
QS Advanced Materials Inc
599 Thurber Dr, Troy MI 48085

Sales@QSAdvancedMaterials.com
Tel: 917-267-9375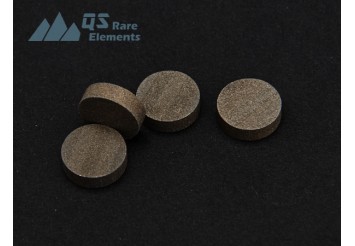 Titanium Boride (TiB2) Sputtering Targets
Composition: Titanium Boride (TiB2)
Catalog No.:DPBO22ST
Purity:99.50%
Maximum Diameter:8"
Typical Lead Time:4 weeks
Ref. Price:$525(2"Dia. x 1/8" T)
About nickel
Nickel is a silver-white metal with magnetism and good plasticity. It has good corrosion resistance. Nickel is almost silver-white, hard, ductile and ferromagnetic. It can be highly polished and resistant to corrosion.
About boron/boride sputter targets
Elemental boron is black or dark brown powder with a melting point of 2076°C. The boiling point is 3927°C. Elemental boron has many allotropes. Amorphous boron is brown powder, and crystalline boron is gray-black. Boron and its compounds are also a co-solvent in the metallurgical industry and a raw material for smelting boron-iron-boron steel. Adding titanium boride, lithium boride, and nickel boride can smelt heat-resistant special alloys; building materials. Borates and borides are important components of enamel, ceramics, and glass. They have good heat resistance and abrasion resistance, can enhance gloss and improve surface finish. In addition, boron is also a widely used additive in the semiconductor industry
Description of TiB2 sputter target
Titanium Boride(TiB2) is produced by hot pressing boride of Titanium. Just like most of boron compound, TiB2 is also quite hard and brittle. borides can be classified loosely as boron rich or metal(Titanium) rich. In this case(Titanium Boride,TiB2), since Titanium: boron is more than 1:4, TiB2 sputter target is considered a metal rich material.
Packaging
As Titanium Boride sputtering target is a quite brittle material, we shall packed it in vacuum sealed plastic bags and fit it in cut plastic faom. We choose high quality over-sized carboard box to keep our sputter targets safe. Typical documents along with the TiB2 sputter targets are, Chemical analytical report of the TiB2 material (COA) Packing list
Related Product