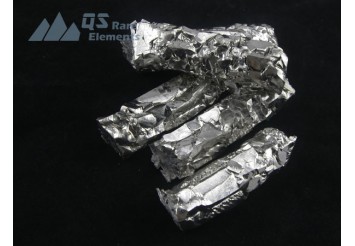 Zirconium and Hafnium Crystal Bars
MOQ:$300
Catalog No. RM40-CB(Zirconium), RM72-CB (Hafnium)
Typical Lead Time: 2-3 weeks

Basic Information of ourZirconium/Hafnium Crystal Bar
| | |
| --- | --- |
| Purity grade: | 99.95% |
| Diameter: | 25~35mm (1"~1.4") |
| Length: | <1000mm (36") |
Zirconium/Hafnium Crystal Bar Introduction
Zirconium and hafnium are transition metals belonging to group 4 of the periodic table. As adjacent elements, they share very similar chemical and physical properties, including analogous crystal lattice structures with a hexagonal close-packed arrangement. The production of high-purity zirconium or hafnium crystal bars makes use of the iodide crystallization method, an advanced purification technique. In this sophisticated manufacturing process, the raw zirconium or hafnium metal is first chemically converted into the corresponding metal iodides through an exothermic reaction with iodine. These metal iodides have relatively low boiling points, allowing them to be evaporated into gaseous form under vacuum conditions without supplying excessive thermal energy. The vaporized iodides are transported into a specialized reaction vessel and heated to elevated temperatures, inducing thermal decomposition back into the pure metal form. The liberated zirconium or hafnium then deposits in an ordered crystalline manner onto seed crystals composed of the respective metal wires. This evaporative recrystallization generates polycrystalline metallic rods known as crystal bars. Utilizing this approach, the metals can be purified to very high levels, often achieving purities of 99.95% or greater. The iodide crystallization process thereby produces zirconium and hafnium crystal bars of exceptional purity essential for advanced applications.
Buy Crsytal Bar From QSAM
Zirconium crystal bars produced through iodide crystallization serve as high-purity zirconium feedstock for manufacturing advanced zirconium materials. As a supplier of specialty metals, QSAM not only utilizes zirconium crystal bars for internal production but also offers them for direct sale. In addition to crystal bars, QSAM supplies high-purity zirconium products derived from this premium raw material, including sputtering targets, pellets, and wire. These value-added zirconium offerings showcase QSAM's capabilities in refining and fabricating ultra-pure zirconium essential for cutting-edge applications ranging from semiconductor manufacturing to aerospace engineering. By providing zirconium crystal bars alongside finished zirconium components, QSAM enables clients to source this strategic metal and associated products critical for high-technology industries.
Related Product
Electrolyte Iron (Fe) / High purity iron