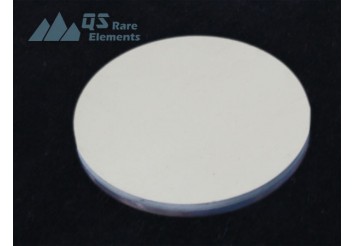 Oxide Sputtering Targets
Product: Sputtering targets of Elements' oxide
Catlog No.:DPOXST
Ti2O3, ITO, ,IZO, AZO, Titanate, Zirconate, Garnets and other oxide sputtering targets
MOQ. $300

Oxide Compounds introduction
Oxide compounds, with their diverse properties and versatile nature, play a crucial role in numerous applications, particularly in the fields of optics and electronics thin film depositions. These compounds, formed by the combination of oxygen with various metallic or non-metallic elements, exhibit a wide range of optical and electrical properties that make them highly valuable in these industries.
In optics, oxide compounds such as titanium dioxide (TiO2), zinc oxide (ZnO), and indium tin oxide (ITO) are extensively utilized. TiO2 is known for its high refractive index and is employed in optical coatings, anti-reflective coatings, and lenses. ZnO offers excellent transparency and electrical conductivity, making it ideal for applications in transparent electrodes, solar cells, and displays. ITO, a transparent conductive oxide, finds extensive use in touchscreens, flat panel displays, and organic light-emitting diodes (OLEDs).
Moreover, oxide compounds are widely employed in electronic thin film depositions. For instance, tantalum oxide (Ta2O5) and niobium oxide (Nb2O5) are utilized as dielectric materials in capacitors and memory devices. These compounds provide high capacitance, low leakage current, and excellent stability. Additionally, oxides like hafnium oxide (HfO2) and aluminum oxide (Al2O3) serve as gate oxides in advanced transistors, enabling improved performance and reduced power consumption.
*Please notice the titanates, zirconate and other composite oxide sputtering targets(e.g. LaNiO3, LabNbO3) is also considered as oxide sputtering targets here but they usually need longer lead time as it's not very common and have high requirements for manufacturing.
List of QSAM oxide sputter targets
| | | | |
| --- | --- | --- | --- |
| Product Name | Catalog No. | Purity | Typical Lead Time |
| | DPOX13ST | 99.99% | 2 weeks |
| | DPOX51ST | 99.99% | 4 weeks |
| | DPATOST | 99.99% | 3 weeks |
| | DPOX83ST | 99.9% | 4 weeks |
| | DPOX58ST | 99.9% | 4 weeks |
| | DPOX24ST | 99.9% | 4 weeks |
| | DPOX24ST | 99.9% | 4 weeks |
| | DPOX27ST | 99.9% | 4 weeks |
| | DPOX29ST | 99.9% | 4 weeks |
| | DPOX29ST | 99.9% | 4 weeks |
| | DPOX66ST | 99.9% | 4 weeks |
| | DPOX68ST | 99.9% | 4 weeks |
| | DPOX63ST | 99.9% | 4 weeks |
| | DPOX64ST | 99.9% | 4 weeks |
| | DPOX72ST | 99.9% | 4 weeks |
| | DPOX67ST | 99.9% | 4 weeks |
| | DPOX49ST | 99.99% | 4 weeks |
| | DPOX49ST | 99.99% | 4 weeks |
| | DPOX26ST | 99.9% | 4 weeks |
| | DPOX26ST | 99.9% | 4 weeks |
| | DPOX49ST | 99.99% | 2 weeks |
| | DPOX49ST | 99.99% | 2 weeks |
| | DPOX57ST | 99.9% | 4 weeks |
| | DPOX57ST | 99.9% | 4 weeks |
| | DPOX57ST | 99.9% | 4 weeks |
| | DPOX57ST | 99.9% | 4 weeks |
| | DPOX82ST | 99.9% | 4 weeks |
| | DPOX3ST | 99.9% | 4 weeks |
| | DPOX71ST | 99.9% | 4 weeks |
| | DPOX12ST | 99.9% | 4 weeks |
| | DPOX25ST | 99.9% | 4 weeks |
| | DPOX-M | 99.9% | 4 weeks |
| | DPOX42ST | 99.9% | 4 weeks |
| | DPOX60ST | 99.9% | 4 weeks |
| | DPOX28CFST | 99.9% | 4 weeks |
| | DPOX28ST | 99.9% | 4 weeks |
| | DPOX41ST | 99.9% | 4 weeks |
| | DPOX59ST | 99.9% | 4 weeks |
| | DPOX62ST | 99.9% | 4 weeks |
| | DPO21ST | 99.9% | 4 weeks |
| | DPOX14ST | 99.99% | 4 weeks |
| | DPOX14ST | 99.9% | 2 weeks |
| | DPOX73ST | 99.9% | 4 weeks |
| | DPOX65ST | 99.9% | 4 weeks |
| | DPOX69ST | 99.9% | 4 weeks |
| | DPOX50ST | 99.99% | 4 weeks |
| | DPOX22ST | 99.99% | 2 weeks |
| | DPOX74ST | 99.9% | 4 weeks |
| | DPOX23ST2 | 99.9% | 4 weeks |
| | DPOX23ST | 99.9% | 4 weeks |
| | DPOX70ST | 99.9% | 4 weeks |
| | DPOX39ST | 99.9% | 4 weeks |
| | DPOX30ST | 99.9% | 3 weeks |
| | DPOX40ST | 99.9% | 4 weeks |
Related Product