Contact us
QS Advanced Materials Inc
599 Thurber Dr, Troy MI 48085

Sales@QSAdvancedMaterials.com
Tel: 917-267-9375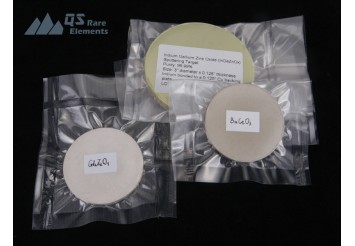 Mixed Oxide Sputtering Targets
Titanate, Zirconate, Ferrite, Garnet ...

Shape: Discs, Plates, Column Targets and other costom size
Max.Size: 18"disc
General Introduction
Mixed oxide compounds are sometimes treated as salts, as it looks like a metal ion with a oxyacid group, such as LaCrO3. For composite oxide sputter targets, they are in most of cases produced by well mix the fine oxide powder together and hot press it under high enough temperature, that could allow re-crystallization. Thus, the cost is much higher than normal oxide sputter targets, and requires lot of experience to make a single phase sputter target with enough density.
Our Sputter target product line
QSAM is a professional supplier of custom manufactured R&D equipments and materials. Our batch hot pressors could produce specified composition material in a relatively short time with competative price. Sputter targets of mixed oxides could be made in a range of 1" ~ 12" diameter, determined by the property of material.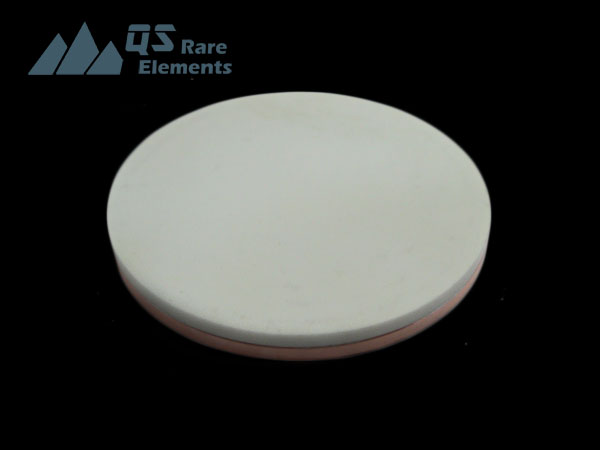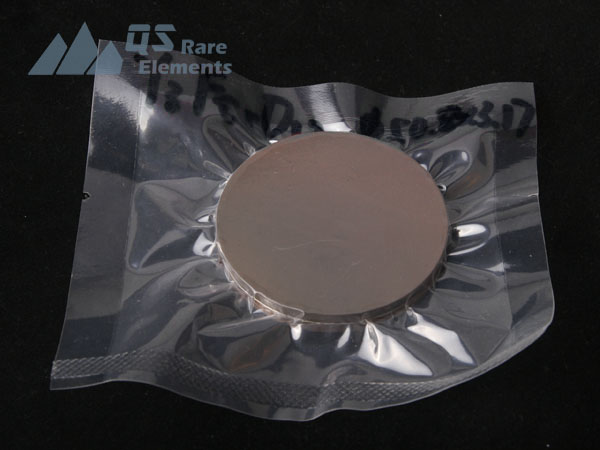 List of our regular sputter targets
*Other composition could be available
| | | | |
| --- | --- | --- | --- |
| Composition | Purity (REM) | Catalog No. | Typical Lead Time |
| ATO (Sb2O3/SnO2) Sputtering Targets | 99.9% ~ 99.99% | DPOX51ST | 5 weeks |
| Barium Strontium Titanate (Ba0.5Sr0.5TiO3) Sputtering Targets | 99.9% | DPOX56ST | 5 weeks |
| Barium Titanate (BaTiO3) Sputtering Targets | 99.9% ~ 99.99% | DPOX56ST | 5 weeks |
| Barium Zirconate (BaZrO3) Sputtering Targets | 99.9% | DPOX56ST | 5 weeks |
| Bismuth Ferrite (BiFeO3) Sputtering Targets | 99.9% | DPOX83ST | 5 weeks |
| Bismuth Ferrite (Garnet, Bi3Fe5O12) Sputtering Targets | 99.9% ~ 99.99% | DPOX83ST | 5 weeks |
| Bismuth Titanate (Bi4Ti3O12) Sputtering Targets | 99.9% | DPOX83ST | 5 weeks |
| Copper Aluminum Oxide (CuAlO2) Sputtering Targets | 99.9% ~ 99.99% | DPOX29ST | 5 weeks |
| Lanthanum Aluminate (LaAlO3) Sputtering Targets | 99.9% | DPOX57ST | 4 weeks |
| Lanthanum Manganate (LaMnO3) Sputtering Targets | 99.9% | DPOX57ST | 4 weeks |
| Lanthanum Nickel Oxide (LaNiO3) Sputtering Targets | 99.9% | DPOX57ST | 4 weeks |
| Lanthanum Niobium Oxide (LaNbO3) Sputtering Targets | 99.9% | DPOX57ST | 4 weeks |
| IGZO (Indium Gallium Zinc Oxide) Sputtering Targets | 99.9% ~ 99.99% | DPOX49ST | 5 weeks |
| Lanthanum Titanate (LaTiO3) Sputtering Targets | 99.9% | DPOX57ST | 4 weeks |
| Lanthanum Vanadium Oxide (LaVO3) Sputtering Targets | 99.9% | DPOX57ST | 4 weeks |
| Lead Titanate (PbTiO3) Sputtering Targets | 99.9% | DPOX82ST | 5 weeks |
| Lead Zirconate (PbZrO3) Sputtering Targets | 99.9% | DPOX82ST | 5 weeks |
| Lead Zirconium Titanate (PbZr0.52Ti0.48O3) Sputtering Targets | 99.9% | DPOX82ST | 5 weeks |
| Lithium Cobalt Oxide (LiCoO2) Sputtering Targets | 99.7% | DPOX3ST | 5 weeks |
| Lithium Niobate (LiNbO3) Sputtering Targets | 99.9% | DPOX3ST | 5 weeks |
| Lithium Phosphate (Li3PO4) Sputtering Targets | 99.9% ~ 99.95% | DPOX3ST | 5 weeks |
| Strontium Ruthanate (SrRuO3) Sputtering Targets | 99.9% | DPOX38ST | 5 weeks |
| Strontium Titanate (SrTiO3) Sputtering Targets | 99.9% | DPOX38ST | 5 weeks |
| Strontium Zirconate (SrZrO3) Sputtering Targets | 99.9% | DPOX38ST | 5 weeks |
Related Product